Да, табак это лишь табак. Да, перед запуском на рынок их тестируют для получения сертификации и да, это делается только машинами. Но многие производители сигарет имеют собственные виварии и тестируют новые разработки на животных. На их сайтах можно увидеть приписки о том, что они пытаются сокращать количество животных и не использовать их без необходимости.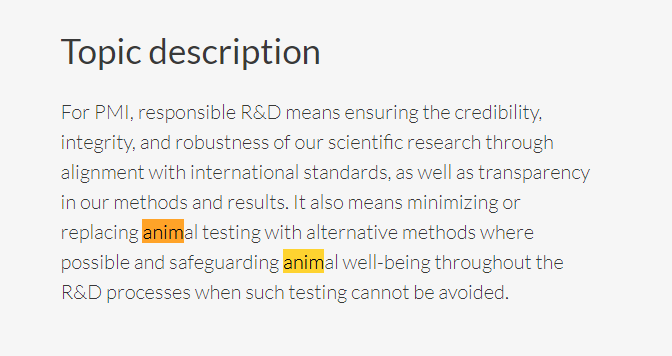 Думаю, не стоит объяснять, что для нас с вами это недопустимо, а курение это не что-то жизненно важное. Понимая, как кому-то может быть сложно бросить курить, я рекомендую перейти на табак от Von Eicken. Они не тестируют на животных и многие их бренды веганские. Вот официальный ответ от представителя Von Eicken:
Dear Ksenia,
It took me a while to get some first feedback from our quality service team regarding our large portfolio in Russia.
If you are looking for vegan-friendly tobacco, I do strongly recommend the brands Manitou, Sioux and Pepe. Preferably as rolling-tobacco. This is pure tobacco free of any pesticides and artificial fertilizers.
When it comes flavored pipe tobacco there is a high chance that you get in touch with any type of honey for sweetening, but not all pipe tobaccos have honey.
When it comes to normal cigarettes, you should know that in the tipping paper (cork style paper around the filter) there is a sort of musle chalk/lime as part of the ingredients.
Anyhow, you may be interested as well to know that we do not use any animal testing for our products.
I hope I could answer some of your questions.
Best regards
Peter
А вот список веганских табачных изделий:
| | |
| --- | --- |
| Cigars | Candlelight Club Sumatra |
| | Candlelight Club Hav.Fill. |
| | Candlelight Club Brasil |
| | Candlelight Mini Sumatr |
| | Candlelight Mini Cherry |
| | |
| --- | --- |
| Cigarettes | Pepe Fine Green OP 20 |
| | Pepe Easy Green OP 20 |
| | Pepe Rich Green OP 20 |
| | Pepe Dark Green OP 20 |
| | |
| --- | --- |
| Finecut Tobacco | Ashford Bright Virginia |
| | Ashford Halfzware |
| | Ashford Dark Tobacco |
| | Manitou Virginia Blue |
| | Manitou Virginia Pink |
| | Manitou Virginia Gold |
| | Manitou Organic Green |
| | Sioux Red |
| | Sioux Blue |
| | Mynheer Halfzware |
| | Mynheer Zware |
| | Mynheer Bright Virginia |
| | Mynheer Halfzware |
| | Mynheer Bright Virginia |
| | Pepe Easy Green |
| | Pepe Fine Green |
| | Pepe Dark Green |
| | Pepe Rich Green |
| | Harvest Cherry |
| | Harvest Vanilla |
| | Harvest Wild Berry |
| | Harvest Coffee |
| | Harvest Halfzware |
| | Harvest Mint |
| | Harvest Apple |
| | Harvest Black Currant |
| | Harvest Strawberry |
| | |
| --- | --- |
| Pipe Tobacco | BKB Bright Virginia |
Про Chapman отдельный пост: https://veganrussian.ru/chapman/